I have been a canyoning guide since 2016, the shores of Lake Annecy are the beginning of my story...
A passion, shared happiness.

First of all, becoming a canyoning guide was the main objective because I am passionate about canyoning! Since I discovered the activity with a friend, in the canyon of Montmin, this passion has never left me. So becoming a canyoning guide was for me the complement of a life project that could allow me to share a passion and to make it known to as many people as possible! This is why when I learned of the creation of the specific state diploma for canyoning, I embarked on the adventure. Now I make it my job, and I have the chance to make you discover with joy this discipline in tune with the times!
Your canyoning guide

My name is Rémy VILANOVA.
I was born in 1987 and I have been canyoning since 2010.
I can't wait to make you discover the joys of canyoning in Haute-Savoie and Savoie!
We can also go and discover beautiful canyons in other places!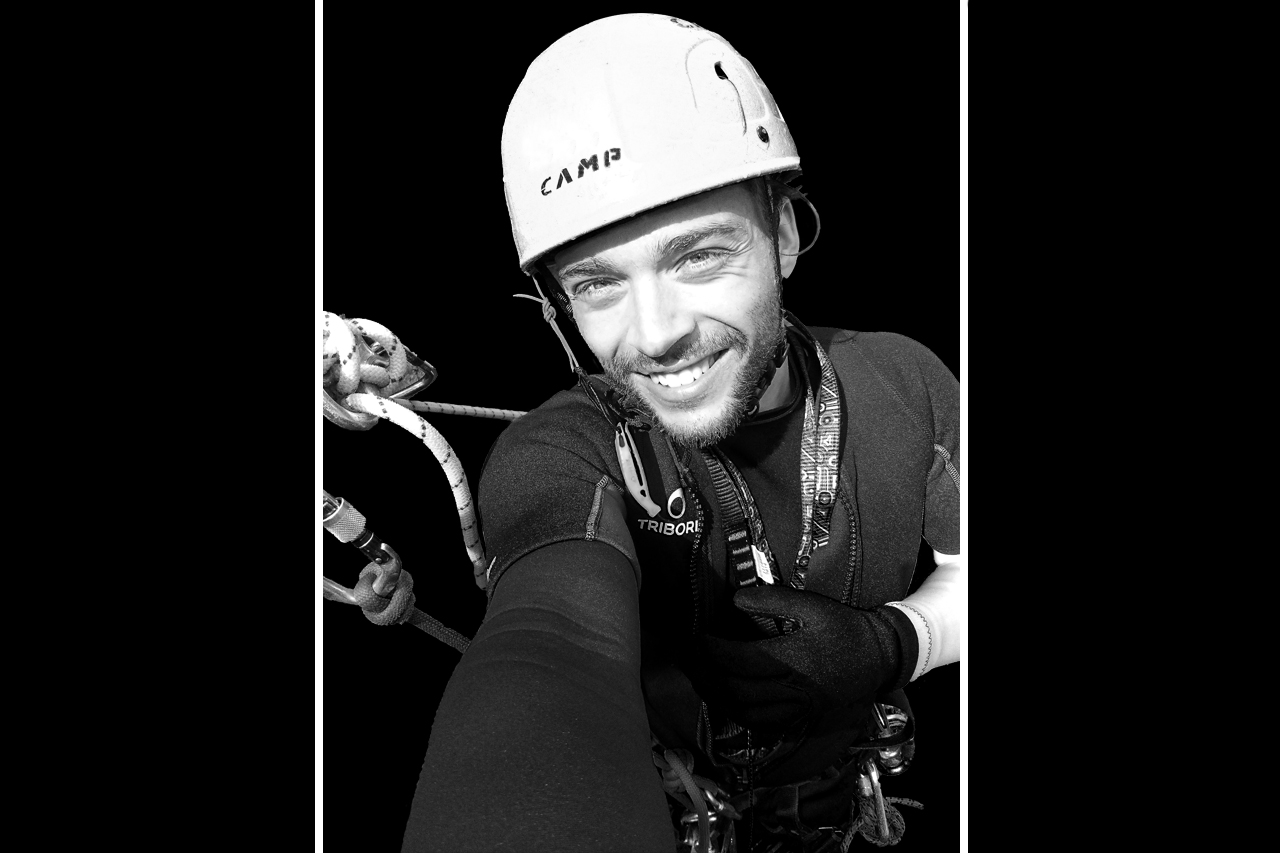 My experiences led me to become a professional canyoneer!

The opening of new canyons was for me the starting point. The exploration of places untouched by man motivated me and gave me the self-confidence to embark on the state diploma.
The desire for new adventures.
The discovery of exceptional canyons is fascinating, but it is even more fascinating to have to think long and hard to make a first descent in safety. Indeed, some canyons remain unopened to this day, because of their difficulty of progression, in particular linked to a still substantial flow and/or difficult access.
I am thinking of the opening of the Gornera Gorge in Zermatt, the Rovana Gorge in Switzerland, as well as a few on the north face of the Eiger and others in the Alps.
I have also gained experience by traversing renowned technical canyons such as the Oules de Freissinière in the Écrins massif and other very aesthetic and playful : the Maglia canyon in the southern Alps, and integral Cresciano in Ticino ...
I continue to have projects in canyoning, more and more ambitious!

In addition to prospecting to find even more amazing canyons to open, I am increasingly aiming for unusual places with great canyoning potential! Wild Canada can make me dream because it's vast, Antarctica too. Without forgetting South America where I think there can be so much to do! All you have to do is spend more time thinking about getting organized around a project
The little extra!
I preciously reserve for my personal and professional use small, wild and unknown alpine canyons, where certain privileged people will be able to have fun, but shhhhh... I keep the secret!
My desires
The future is often full of questions, doubts and hopes. When you start out, you don't really know where you're going to end up, but I want to turn my megalomaniac visions into a strength to keep moving forward, in the right direction, sharing the right values, and perhaps enabling everyone to reach their goals and desires.
I hope that time will bring me to have a mature, respected and reputable company for what it sells!
My state diploma

I am proud to present you my diploma that I validated in December 2016. This is certainly the real starting point for my canyoning business. In addition, the Lake Annecy region is so beautiful that I never tire of exploring these canyons!