You have already done this activity, then the adventure canyoning allows you to discover new strong sensations in a wild and less accessible natural environment!
Go on an adventure canyoning, a first experience of the "real canyon" far from the overcrowded places.
You already have experience in canyoning. The adventure canyoning option is what you need!
If you are adept at abseiling and confident on the rope then you want to experience more thrills and explore even more dizzying and wild canyons, this is the selection of canyons to look at.
Otherwise start with more easily accessible canyons.
Your effort will lead you to the beautiful hidden waterfalls of the region!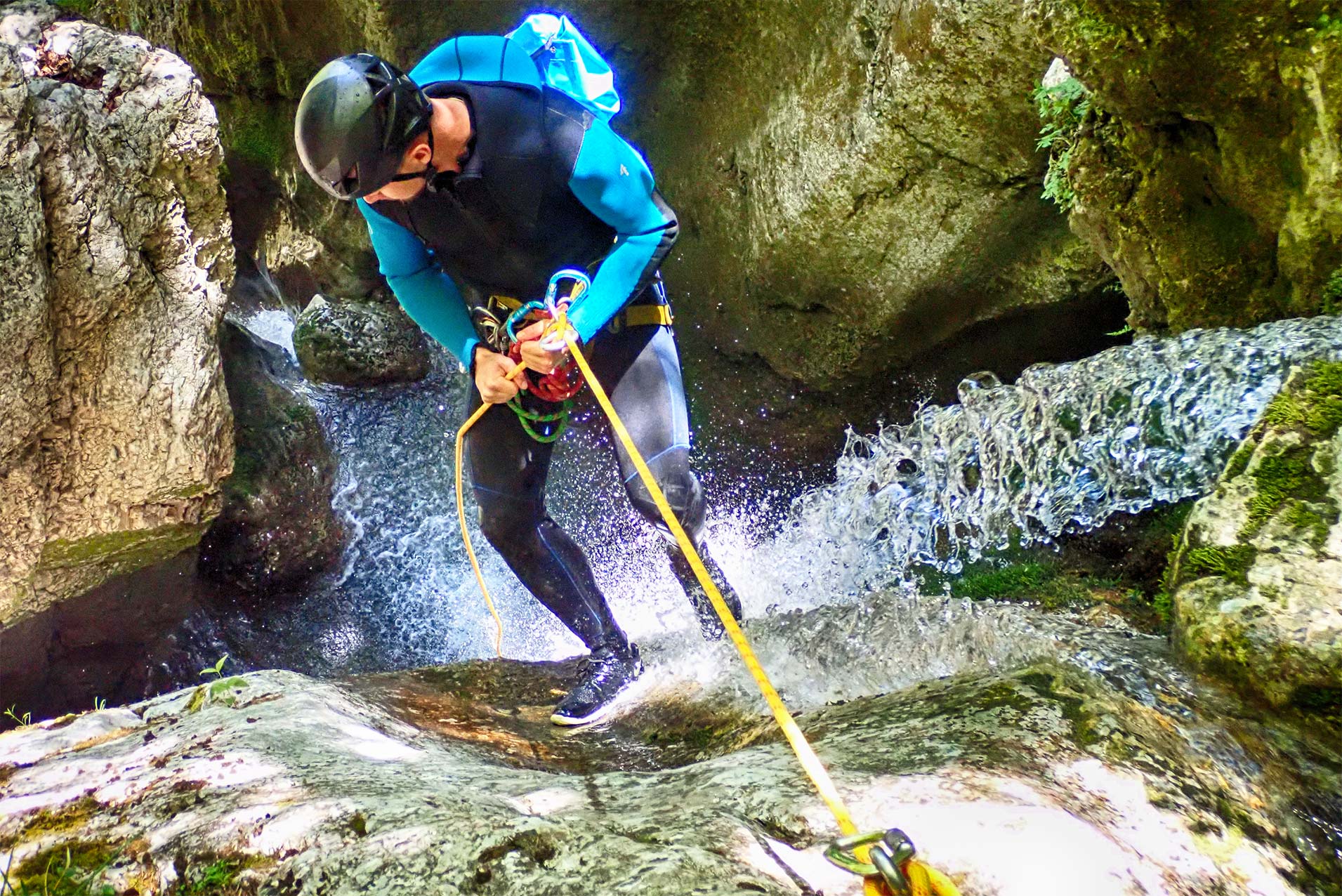 Challenge yourself! Be proud of yourself and disconnect from the world for a moment! Because the canyoning adventures will totally change your life and you will live the moment until the end!
I will accompany you in canyons practiced by autonomous enthusiasts, we will not meet a lot of guides, nor big groups! To do these canyons, you will help me to progress by carrying equipment and helping to unequip. You may even find yourself going down first with missions to attach the rope to the next belay for example, so you must have some autonomy to put carabiners and your lanyards at the belay.
A physical high notch, these adventure canyons are more sustained, due to their strong aquatic or vertical character and often longer approach steps. On the other hand, the freedom of being the only ones inside and the wild atmosphere of the place will delight you!
Adventure Canyoning offer
in "Haute-Savoie":
 FULL ANGON
Duration in water 3h30 / 75€
Place : Talloires, Angon, Lac d'Annecy (74) | Total duration : 4 hours and a half
Description : This full version is a "must" on the Lake Annecy area. The canyon starts above the bridge of the fairies and goes down in gorges to find itself at the beginning of the waterfall of 60 meters! So adrenaline guaranteed! But the continuation is also accompanied by jumps and slides.
LA MINE
Duration in water 3h30 / 80€
Place : Doussard (74) | Total duration : 4 hours
Description : This little frequented canyon is vertical, so you will be in the action from the beginning to the end! Because the waterfalls follow one another and the basin is suspended before the 40 meters waterfall, this canyon will not leave you indifferent! You will have understood that this canyon is more technical than playful. Count a good hour of walk of approach and that on good way. It is a pretty canyon, but unknown to the general public.
LA BELLE INCONNUE
Duration in water 3h / 75€
Place : Thônes (74) | Total duration : 4 hours
Description : Here is a canyoning which has the particularity to present a passage under unique cave in the middle of the descent, what made its reputation with the passionate. With a little water it becomes a little more extreme and pretty! The descent takes place in a wild atmosphere with waterfalls and suspended basins, one of which is 35 meters high.
LE GIFFRE
Duration in water 3h00 / 80€
Place : Mieussy | Total duration : 3 hours
Description : The hyper aquatic canyon par excellence! 2000 liters / second approximately! There is a lot of jumping in big basins, and swimming in beautiful gorges. Not to be afraid of water in this kind of canyon is a plus because the flow is always important. And it is a canyon which does not present big waterfalls.
Start now to learn canyoning to invest in your passion and discover by yourself our training to autonomy.
After having done several canyons or to answer one of your desires, you can come to meet us for a training. We start step by step with the simplest basics then we evolve. Then if you know climbing or mountaineering, you have skills and knowledge transfer that can make learning faster and easier.
To meet your needs, we offer customized formulas, in terms of duration and content that can vary, but the idea remains the same, is that at the end you are satisfied with your learning.
Go to our internship section for more details, and don't hesitate to contact us!
"I accompany you with passion".
 The total duration includes the setting up of the equipment, the approach walk, with the canyon descent, the return, and the removal of the personal equipment.