Discover a family canyoning at Lake Annecy accessible with children from 5 years old!
À mon avis, vous allez vous amuser lors de ces descentes facile. Le canyoning famille adapte ce nouveau loisir aquatique pour offrir des sensations uniques !
Le canyon de Seythenex est le seul mini canyon adapté à vos enfants dès 5 ans ! First of all, a real canyon atmosphere awaits you, as the gorge is beautifully carved out of limestone and you descend from pool to pool with the help of a rope. The canyon is short with little walking, which makes it accessible for the youngest.
The aquarando of the Bauges, this course is adapted to your children from 7 years old! Swimming and floatting in a beautiful limestone gorge that we swim through. The current helps us to move forward and enjoy the show. It is a calm moment of contemplation but we can punctuate the course with many jumps! However, climbing the ropes requires a bit of energy. The canyon is aesthetic and without waterfalls which makes it accessible for those who have vertigo.
The canyon of Angon bas is longer than the one in Seythenex and less physical than the canyon of Montmin. Even if this canyon has some nice abseiling, it is more suitable for children from 8 years old.
Montmin, represents a course that I find harder because of the length of the canyon and its demanding return walk. On the other hand, this canyon has the advantage of presenting a lot of jumps, that's why you have to really like jumping and be confident to leap from basin to basin in this canyon.
Canyoning family at Lake Annecy is the chance to choose among canyons where the stunts are easy and the obstacles are fun and entertaining!
For these reasons, I offer below a selection of canyons that are suitable for children and less adventurous adults.
In this respect, family canyoning trips are shorter and less physical.
And if you don't know anything about canyoning, don't worry, your guide is there to accompany you and guide you with patience and tolerance, because putting you at ease is our objective!
Finally, it is surely time to take the plunge and live a great family adventure!
So you don't have to be a great sportsman because vous choisissez le canyoning en famille qui vous correspond !
Firstly, your guide will take you over the waterfalls with jumps and slides (not compulsory) or abseiling with or without a Tyrolean traverse to make the progression as fun and varied as possible.
Secondly, once you have seen the basics and acquired the first sensations, you will have all the weapons you need to challenge yourself and come with us to do new, longer canyons with even more extraordinary atmospheres!
Here is our selection of canyoning activities to discover with your family at Lake Annecy, in Haute-Savoie and Savoie:


SEYTHENEX Mini-Canyon
Duration in water 1h / 45€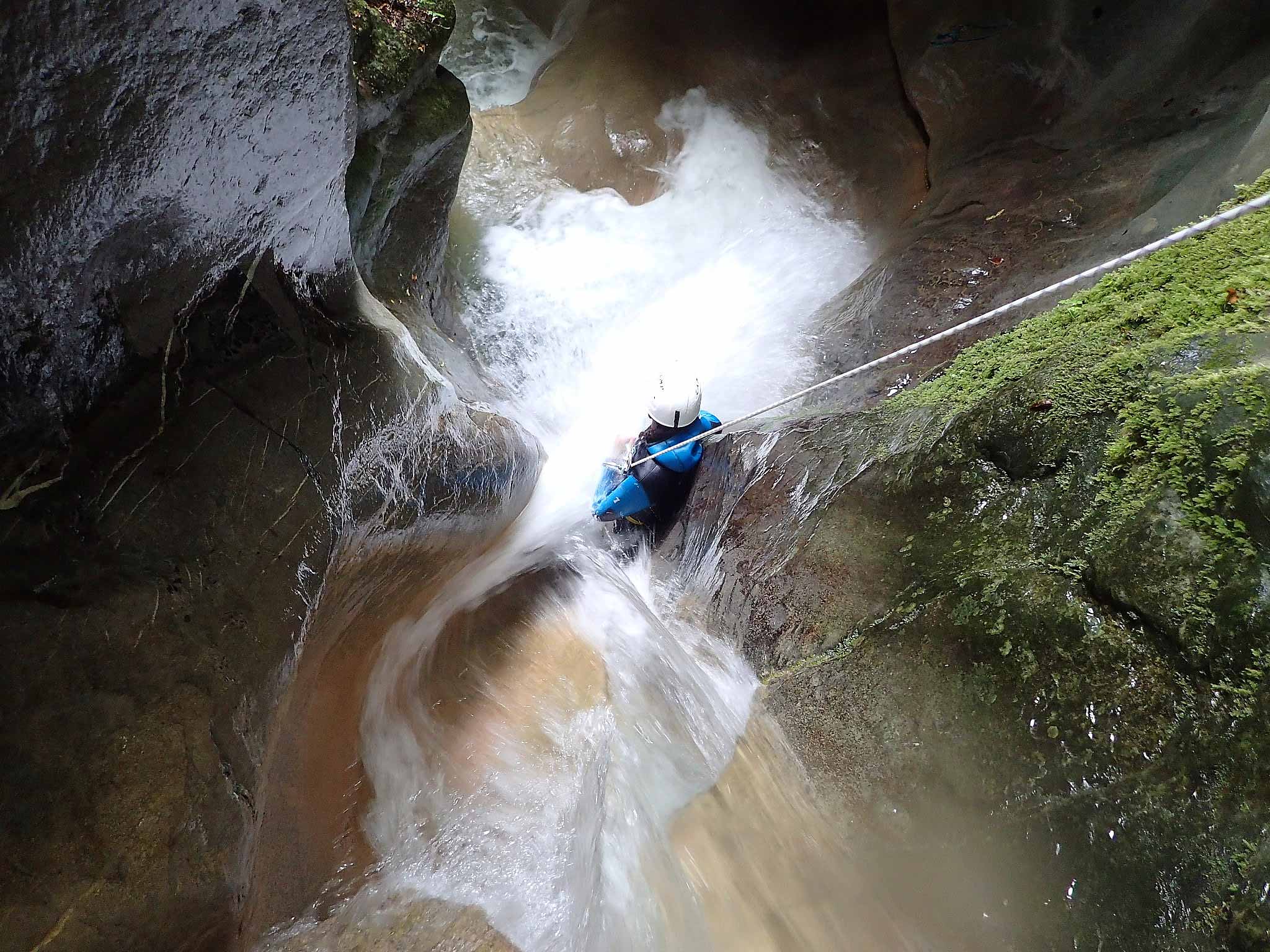 Place : Near Faverges | Total duration : 2 hours

Description : First of all this canyon is short and easy, then it is suitable for children from 5 years old because there are no difficult obstacles. There are mainly small jumps that you descend by abseiling down a slide! The immersion is guaranteed thanks to a beautiful and imposing digging in basins sculpted by the water!
Age : From 5 years old.
 AQUARANDO - BAUGES
Duration in water 1h30 / 50€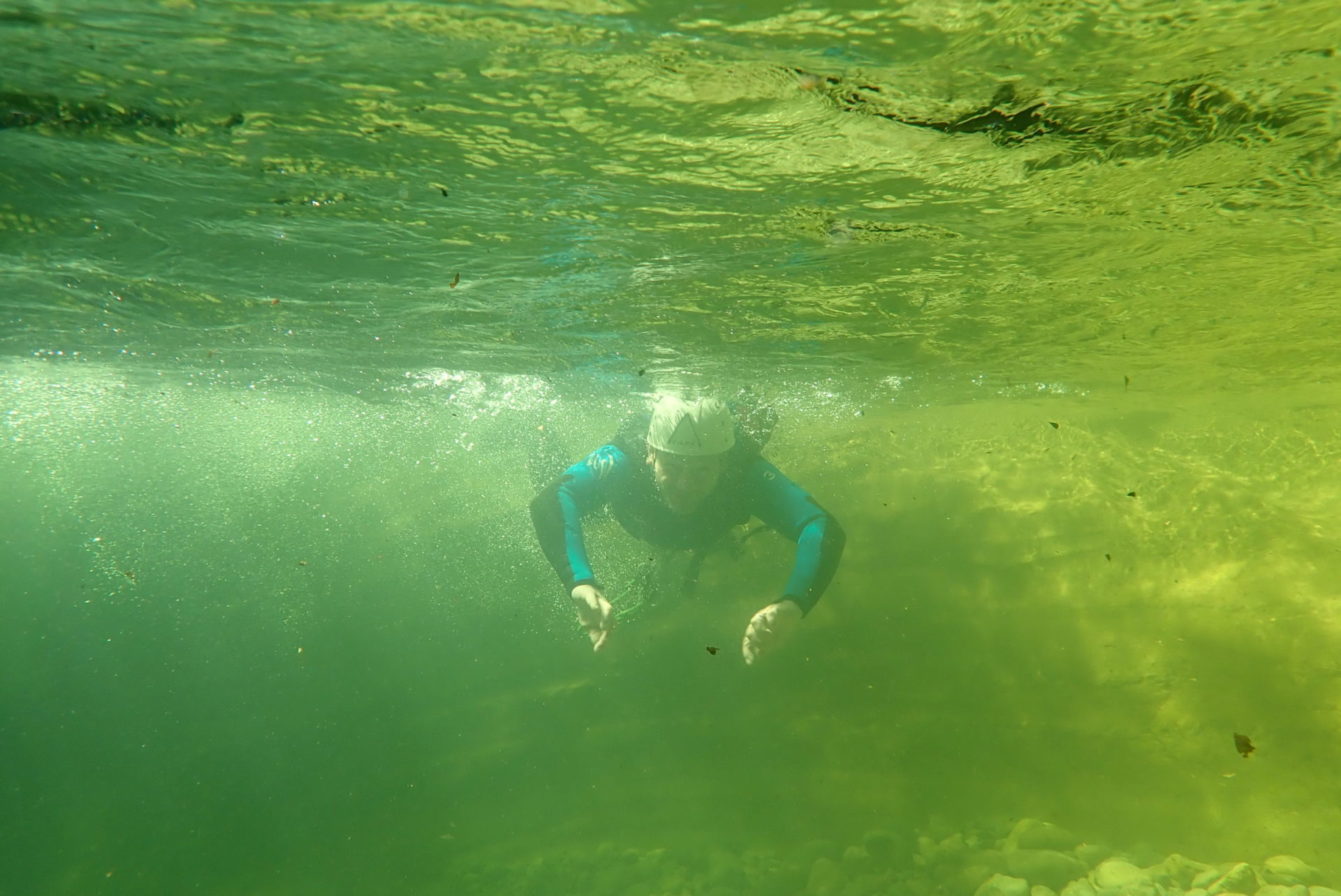 Lieu : Lescheraines | Durée totale : 3 hours
Description : The Aquarando is in the heart of the Geopark of the Bauges Massif, a Unesco World Heritage Site for geology. You can explore a beautiful river with translucent water and water-sculpted cliffs. There is a short approach walk and an easy return walk to the canyon. There are several jumps along the way, so there is plenty of scope for both young and old.
You need to be able to swim to do this canyon. Ideal for a first family experience. The little extra, you can bring a swimming mask.
Age : From 7 years old.
 LOWER MONTMIN
Duration in water 2h / 55€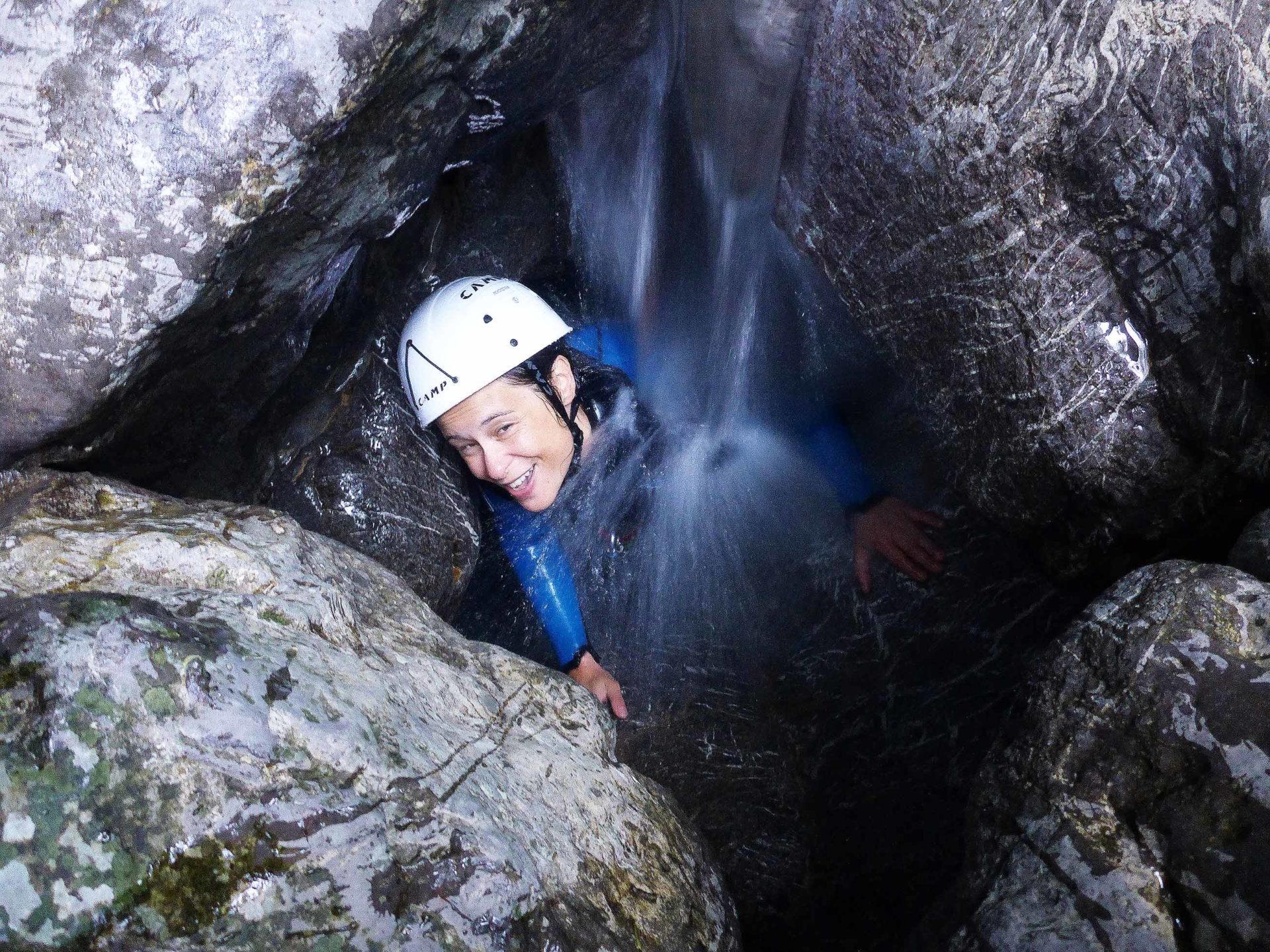 Lieu : Montmin, Vésonne (74) | Durée totale : 3 hours
Description : The canyon is close to Lake Annecy and the nature reserve at the end of the lake. Discover a classic of the region, with slides, jumps and abseiling down waterfalls. The canyon is quite short, the approach walk is 15 minutes along the road and the return is 15 minutes on a steep path. A little physical condition is preferable. Ideal for a first experience between young people.
Age : From 10 years old.
FULL MONTMIN
Duration in water 3h / 65€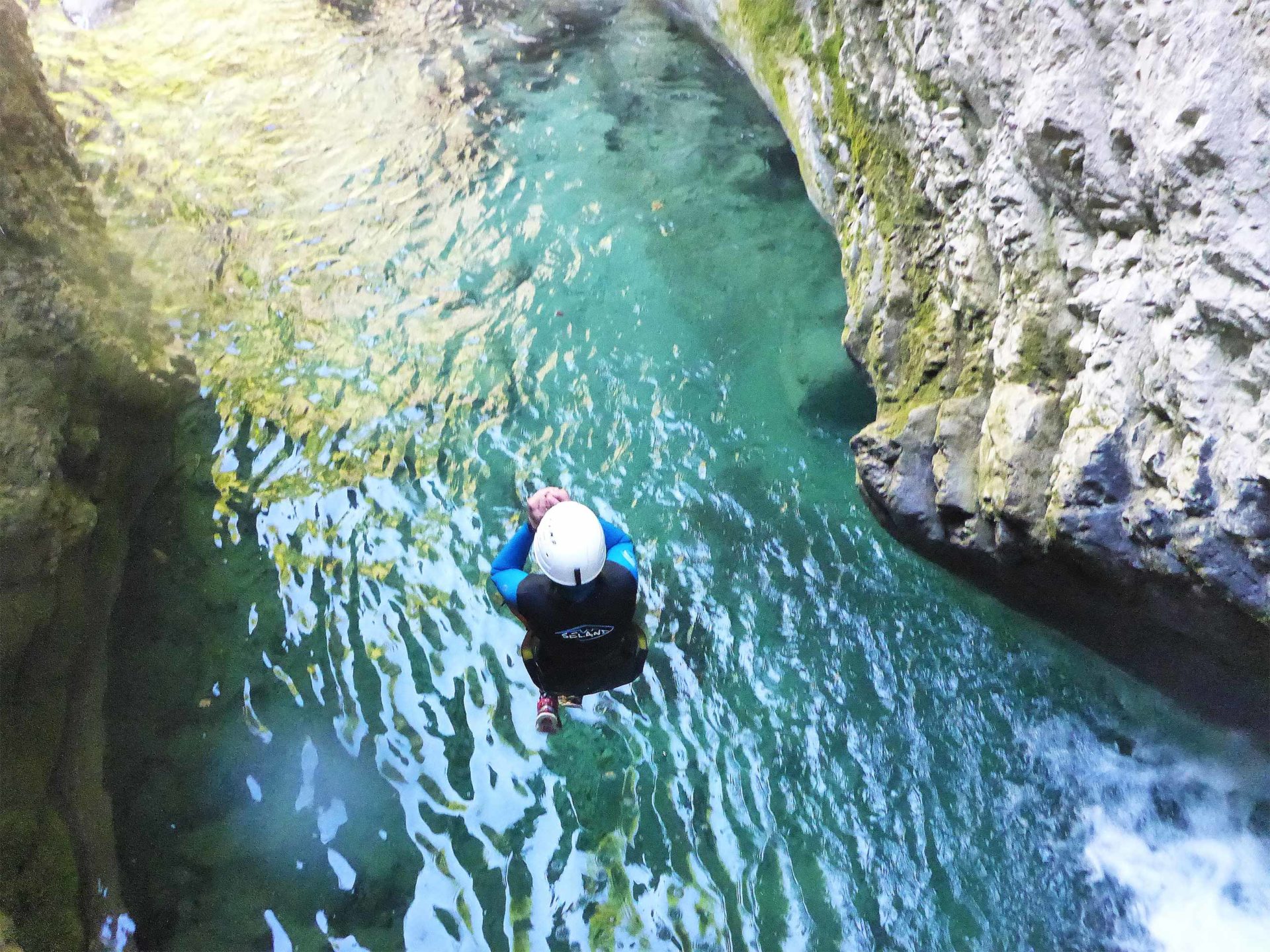 Place : Montmin, Vésonne (74) | Total duration : 4 hours
Description : Explore the entire canyon and access a raw plant and mineral space for a complete adventure. Learn how a tuff waterfall is formed and discover other wonders! Montmin is the ultimate jumping canyon, with most jumps being between 3 and 5 metres. Of course, there are also slides, and a jump up to 7 meters. Jumps are not compulsory, but if you don't like jumping then there are other canyons more suitable. The only compulsory abseiling in the canyon is a maximum of 7 metres. The whole course is therefore fun and complete, which finally gives it its good reputation. Translated with www.DeepL.com/Translator (free version)
Age : From 12 years old.
 LOWER ANGON
Duration in water 2h / 55€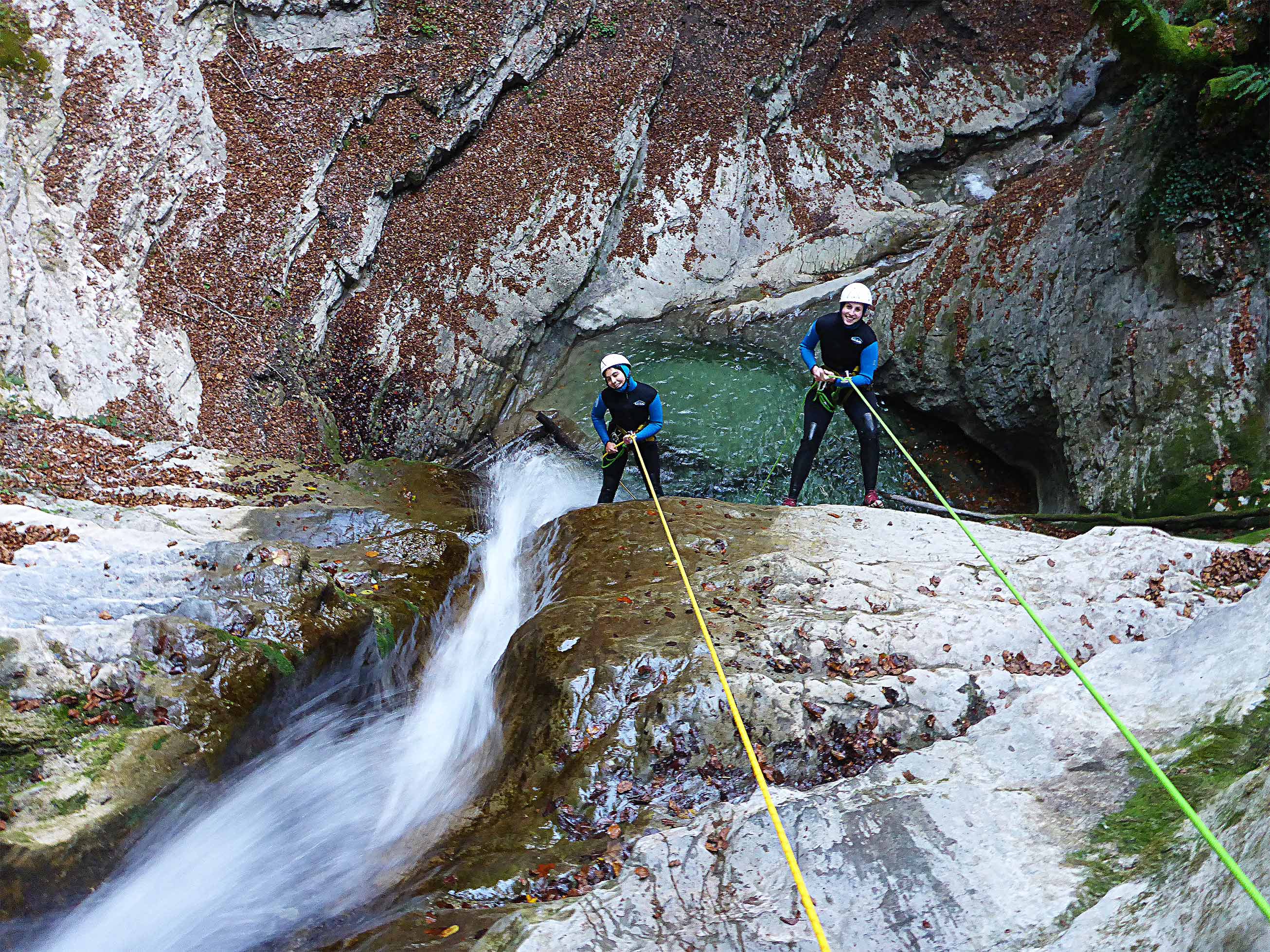 Place : Talloires, Angon (74) | Total duration : 4 hours
Description : On the right bank of Lake Annecy, the sunniest! It is one of the most famous canyons in the Annecy area. Discover it in its short version from the "letter box" passage, because the adventure starts with a 3 meters siphoning slide, where you slip under a small block stuck, like a letter in its box, to land in a beautiful basin! But there is also a nice abseiling which makes this canyon complete, fun and very pretty.
Age : From 8 years old.
 DEVIL'S BRIDGE
Duration in water 1h30 / 60€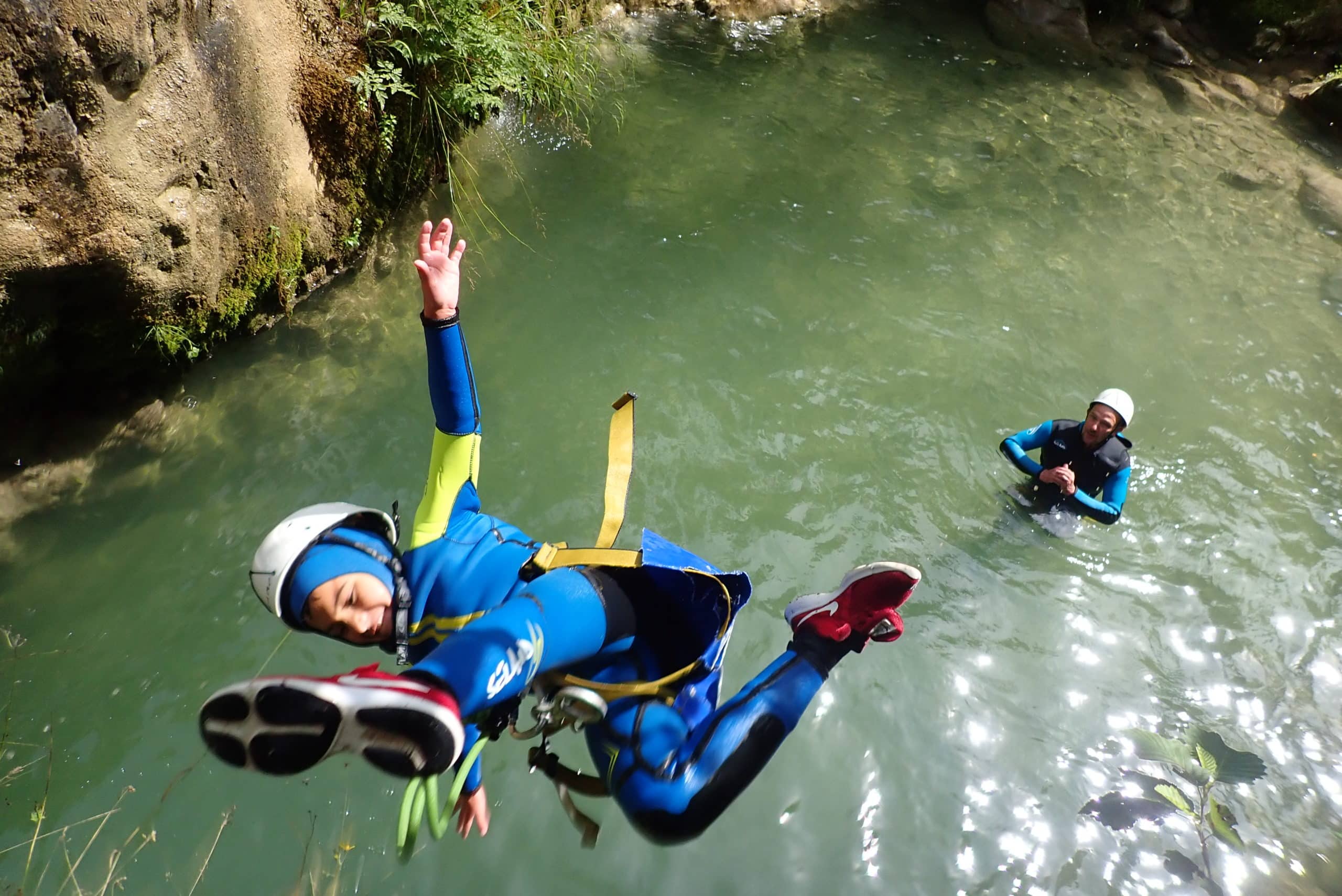 Place : Bellecombes en Bauges, Lescheraine (73) | Total duration : 3 hours
Description : The Devil's Bridge canyon, known for its beauty, has a short, aquatic and steep profile! Find yourself plunged into the bowels of its gorge, about 50 metres deep and only a few metres narrow at one point. A possible jump up to 10 meters, a nice slide and swimming in the creeks decorate the descent. Canyon atmosphere guaranteed!
It is quite possible to descend this canyon with children from the age of 8, when they are at ease in the water and when they are daring enough. I find this course very suitable for families, as it is not very physical and the obstacles can be easily adapted for each level.
Age : From 8 years old.
 La durée totale comprend la mise en place de l'équipement, la marche d'approche, avec la descente canyon, le retour et le retrait du matériel personnel.