Talk to me, I would be happy to be your canyoning guide around Lake Annecy!
I'm Rémy, your canyoning guide
+33 (0)6 43 45 09 38
If I don't reply leave me a text message, I usually reply in the evening.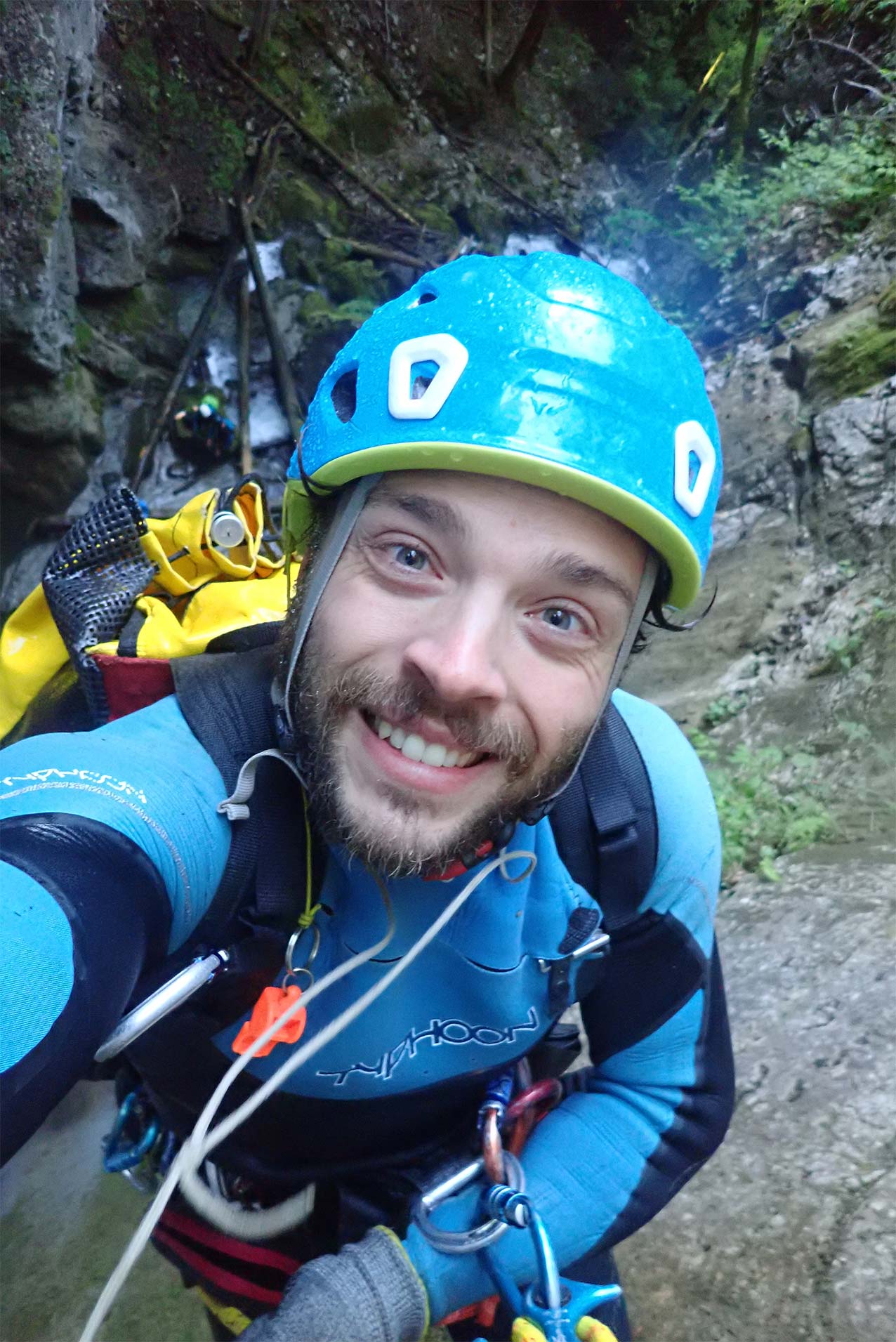 Send me a message!
Reply as soon as possible
Meet me around Lake Annecy
Doussard, Bout du Lac
First of all, I created the company My Canyon. Then, as a canyon guide at Lake Annecy, with the Bauges massif right next door, it was an obvious choice to become a geo-partner of the Bauges geopark, as a canyon expert.
To be honest, I learned canyoning because I fell in love with nature! To this day, it's the driving force behind my job!
It is undeniable that I was attracted by the beauty of the environment in the canyon which, moreover, is exceptional.
So much so that, until now, I have been conquered by the simple fact of playing in the water, feeling the joy of being in contact with the waterfalls and admiring the sublime shapes of the rocks.
Why did I become a canyon guide in the Annecy area?
At first sight you might think that I am a native of the region and that I have always been involved in mountain sports. In fact, I have not!
I got my state diploma in canyoning in 2016. Indeed, thanks to my winter seasons in the mountains, I realised that I also wanted to live from a passion in the summer.
Moreover, apart from France, my passion has taken me to the canyons of Switzerland, Italy and Spain. I have acquired a rich experience and for this reason, I attach great importance to the way I coach you, without stress, with patience and tolerance..
Therefore, I take the time to promote an environmentally friendly way of practising and a sustainable nature. In addition, I explain and show you some of nature's formations, such as the tuff waterfalls.
Thus, I get involved to make your adventure unforgettable and as beautiful as possible.
Basically, I hope that I will fulfil your expectations and that the outing we will organise together will come true!
You have a special project, a particular desire and you cannot find a guide:
I know the Haute-Savoie, Savoie, Ain and Isère well, I have a little experience of Switzerland but I've done some huge canyoning there, so admittedly I'm only a canyoning guide at Lake Annecy, but perhaps I can help you.
In principle, I do my best to answer you as soon as possible.Whatever the request, I see if I can find a suitable solution.
Anyway, come to the news so that I can try to meet your expectations, moreover via the form it is easy and fast!